Extensions can't be uploaded to Cognigy.AI version 3. Please visit the Custom Modules releases page if you are looking for a version 3 third-party integration.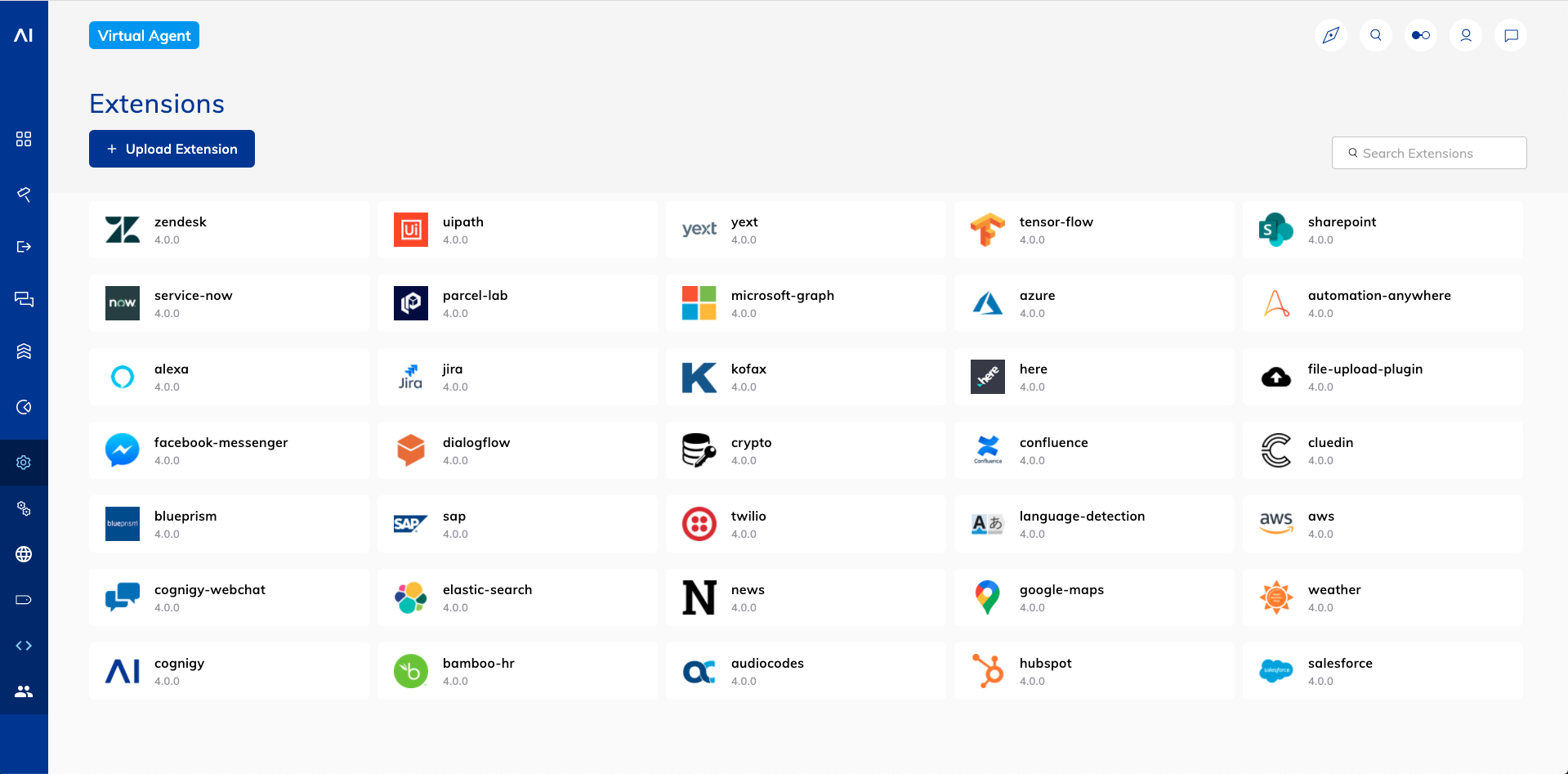 Extensions enable a virtual agent to connect to any third-party system. With the help of these customized integrations, complex processes and procedures can be natively integrated into the AI. Ultimately, the nodes provided can be added to the respective flow as usual via the menu.
Please note that Cognigy does not provide enterprise support for developed Extensions. This repository is licensed under MIT, in which the community is responsible for the shared modules.
---
Download an Extension of your choice from the library below
Done
Library
| Icon | Name | Description | Download | Version |
| --- | --- | --- | --- | --- |
| | Abbyy Vantage | Run Vantage Skills and use Transaction results within the further conversation | Download | 4.0.0 |
| | Avaya Voice | Use Avaya for voice control | Download | 4.1.0 |
| | AWS | Use AWS Functions (S3, Lambda, Polly) | Download | 4.0.1 |
| | Bamboo HR | Get General Employee Information | Download | 4.0.0 |
| | Calendly | Use Meeting information from Calendly | Download | 4.0.0 |
| | Cognigy Webchat | Change the Avatar (User, Bot, Agent) | Download | 4.1.0 |
| | Cognigy | Use Customized Nodes | Download | 4.1.1 |
| | Confluence | Search your Confluence | Download | 4.0.0 |
| | Crypto | Use hashes | Download | 4.1.0 |
| | DeepL | Translate Text Messages | Download | 4.0.0 |
| | DHL | Get Delivery Status and Look for DHL Locations | Download | 4.0.0 |
| | Elastic Search | Search for items in Databases | Download | 4.0.0 |
| | Facebook Messenger | Get the user's location | Download | 4.0.0 |
| | File Upload | Upload files to AWS or Azure | Download | 4.0.0 |
| | Fuzzy Search | Provide unspecific (fuzzy) searches | Download | 4.0.1 |
| | Google Firebase | Store data in a Firebase Realtime Database | Download | 4.0.1 |
| | Google Maps | Use Google Maps in your Chat | Download | 4.2.0 |
| | Google Sheets | Use Google Spreadsheets | Download | 4.0.0 |
| | Google Translator | Use the Google Translator | Download | 4.0.0 |
| | Here | Get Geolocation | Download | 4.0.0 |
| | iCal Conversion | Convert iCal to JSON and the other way around | Download | 4.0.0 |
| | Hubspot | Use Hubspot CRM Information | Download | 4.0.0 |
| | Jira | Get Ticket Information | Download | 4.0.0 |
| | Kofax | Start a RPA Robot | Download | 4.0.0 |
| | Language Detection | Detect the language of a text | Download | 4.0.0 |
| | Marvel API | Use Marvel Comics information | Download | 4.0.0 |
| | Microsoft Azure | Use the Azure Cognitive Services | Download | 4.0.0 |
| | Microsoft Azure DevOps | Create and retrieve Work Items | Download | 4.0.0 |
| | Microsoft Power Automate | Run a Microsoft Flow | Download | 4.0.0 |
| | Microsoft Sharepoint | Get Sharepoint List and Site information | Download | 4.0.0 |
| | Microsoft Dynamics 365 | Maintain Contacts and Accounts | Download | 4.0.0 |
| | Microsoft Graph | Login and use the Graph API | Download | 4.2.1 |
| | Microsoft QnA Maker | Connect a QnA Maker Knowledgebase and answer user questions | Download | 4.0.0 |
| | Monday.com | Integrate with Boards | Download | 4.0.0 |
| | News | Get the latest news headlines | Download | 4.0.0 |
| | Open Weather Map | Get the current weather information | Download | 4.0.0 |
| | ParcelLab | Get package information | Download | 4.0.0 |
| | Patterns | Search results in the input text based on patterns | Download | 4.0.1 |
| | Random Cat Image | Example Extension | Download | 4.0.0 |
| | Salesforce CRM | Log In, maintain and search Entities in Salesforce | Download | 4.2.1 |
| | Salesforce Service Cloud | Enable Salesforce Live Chat conversations | Download | 4.0.0 |
| | Service Now | Maintain Incidents, Service Catalogs and Knowledge Articles | Download | 4.2.0 |
| | Service Now Table API | Integrate with Service Now Table API | Download | 4.0.0 |
| | Slack | Send Messages to a Slack Channel | Download | 4.0.0 |
| | Stripe | Handle Payments and Customers | Download | 4.0.0 |
| | Sunshine Conversations | Performs Switchboard and Notifications tasks | Download | 4.1.0 |
| | Supabase | Connect to a Supabase database and storage | Download | 4.0.0 |
| | Twilio | Send SMS with Twilio | Download | 4.0.0 |
| | UIPath Orchestrator | Integrate with UiPath Orchestrator | Download | 4.2.0 |
| | Tyntec | Send SMS Messages | Download | 4.0.0 |
| | Vier Voice | Vier.AI Voice Functions | Download | 4.0.0 |
| | Vonage | Send SMS and Verify Pin Messages | Download | 4.0.0 |
| | Wikipedia | Search for Wikipedia articles | Download | 4.0.0 |
| | Yext | Provide detailed Yext entity information | Download | 4.0.0 |
| | Zendesk | Manage Tickets in Zendesk, search for Help Center articles & check agent availabilities | Download | 4.3.0 |
---
How to's & Tutorials