In this user guide, you will learn how to connect Genesys Cloud CX with Cognigy Voice Gateway.
By connecting them, you can make phone calls directly from Genesys to your Cognigy voice agent and vice versa. Genesys Cloud CX and Cognigy Voice Gateway follow a set of SIP (Session Initiation Protocol) standards, allowing them to work together smoothly and efficiently. This integration enables seamless communication between the two services, making it easier for you to handle calls and interactions with customers.
Note
This guide is only for Genesys Cloud CX. If you use Genesys Engage, contact Cognigy technical support team for further assistance.
Basic Configuration
To initiate call transfers between destinations, you must first perform some basic configurations. These initial steps involve setting up phone numbers and SIP trunks, which are essential for establishing the connection using SIP protocols.
Create your Voice Connection within Genesys
1. Add the Voice Gateway SIP Trunk
Through the Admin UI > Telephony > Trunks > External Trunks, the Voice Gateway SIP Trunk can be added to Genesys. While configuring the SIP Trunk, there are a few important fields.
The External Trunk Named defines the SIP Trunk name within Genesys.
The Inbound SIP Termination Identifier is the termination URI, unique within the Genesys Cloud organization's region. The termination URI will be used by Voice Gateway to direct SIP traffic to Genesys Cloud.
In the SIP Servers or Proxies section, at least one Voice Gateway port must be specified to define where the outgoing requests should be sent, regardless of the request's destination address.
Ensure that all 3 Voice Gateway IP Addresses are added to SIP Access Control to whitelist them and permit SIP access.
2. DID Numbers
To add and configure the DID numbers, go to Telephony > DID Numbers. Assigning the DID number to a person, call flow, or phone is possible. If queuing is used, the DID number should be assigned to a call flow. The assignee will be the flow configured within Genesys.
3. Call Routes
As mentioned above, a flow must be configured to define what should happen if a number receives a call. To do so, the flow can be created in Architect > Flows: Inbound Call. It is possible to define whether the call should be routed to a specific number or added to a queue.
4. Number Plans
Configuring a number plan through Telephony > Sites > Number Plans is necessary. This number will be needed in the next steps when setting up the Genesys SIP Trunk within Cognigy's Voice Gateway.
Add the Genesys SIP Trunk to Cognigy's Voice Gateway Portal
When initiating a call transfer from Genesys to the Voice Bot, it is necessary to include the Genesys SIP Trunk within Cognigy's Voice Gateway. This step ensures the seamless routing of the call to the designated Voice Bot, specifying the desired destination for the transfer.
Within the Voice Gateway Portal, go to Carriers and add a new one called Genesys.

The Genesys BYOC Cloud public SIP IP addresses must be added to the newly created Carrier. For more information, read the SIP IP addresses for different regions article.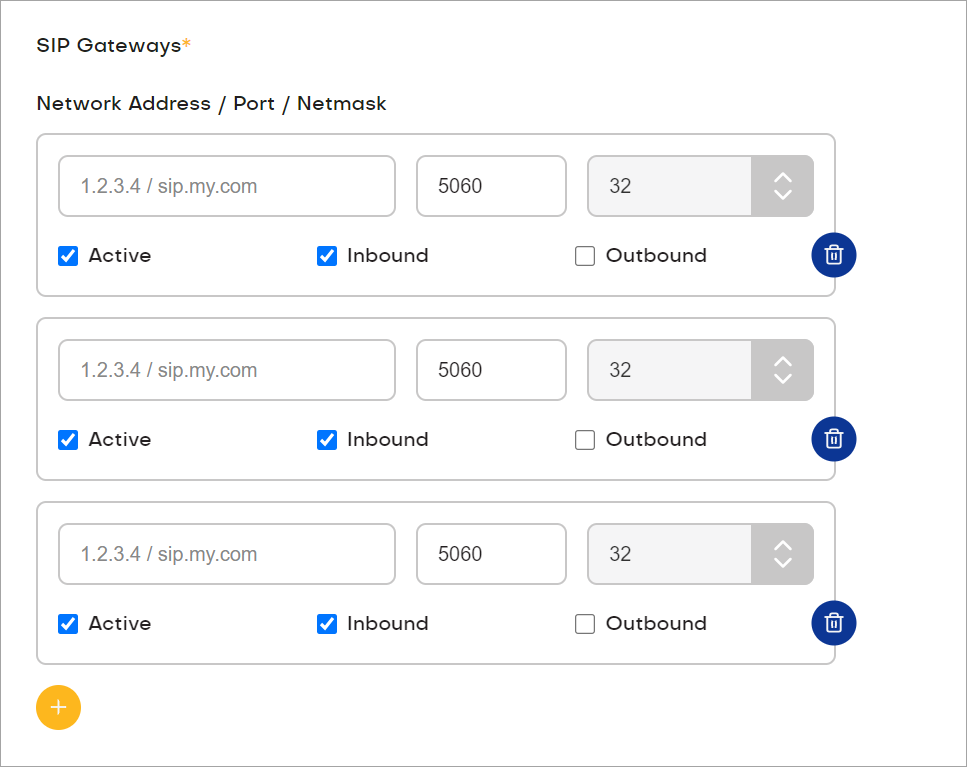 To enable outbound calls, you can find your byoc.mypurecloud.de address in Genesys under External Trunks, where we have added our Voice Gateway SIP Trunk.

Transferring calls from Cognigy back to Genesys
In certain scenarios, transferring the call back to Genesys may be necessary to establish a connection with a human agent. This process can be effortlessly handled through the Voice Flow within Cognigy, allowing for efficient management and smooth connectivity.
Cognigy Voice Bot Flow
To configure the handover back to Genesys, add the VG Transfer Node to the flow. In this Node, you will find two options:
Refer
Dial
If you use the Refer option, the call will be transferred to Genesys with a sip:refer. This leads to the total handover of the conversation to Genesys.
If you use the Dial option, the call will be transferred to Genesys with a sip:invite. This allows the voice bot to stay within the conversation, listen, and transcribe to all involved parties in the call. This option is needed if Agent Assist wants to be used where the call needs to be transcribed.
Within the transfer Node, you must add your Genesys DID into the target field to transfer back to the right Genesys number.
See also